TECOM Group PJSC (DFM: TECOM), (the "Company" or the "Group"), the creator of specialised business districts and vibrant communities, yesterday held its inaugural Annual General Assembly Meeting at one of its major business parks, Dubai Internet City. During the meeting, shareholders approved the Group's financial statements for the year ended 31 December 2022 and a recommendation by the Board of Directors to distribute a cash dividend of AED 200 million in April 2023, bringing the total amount of dividend distributions for the second half of 2022 to AED 400 million.
The approved dividend distribution is in line with the Group's previously announced dividend policy of issuing AED 800 million annually, to be distributed in semi-annual instalments, to shareholders through to September 2025. All matters related to future dividend distribution will be subject to the Board of Directors' recommendation and shareholders' approval.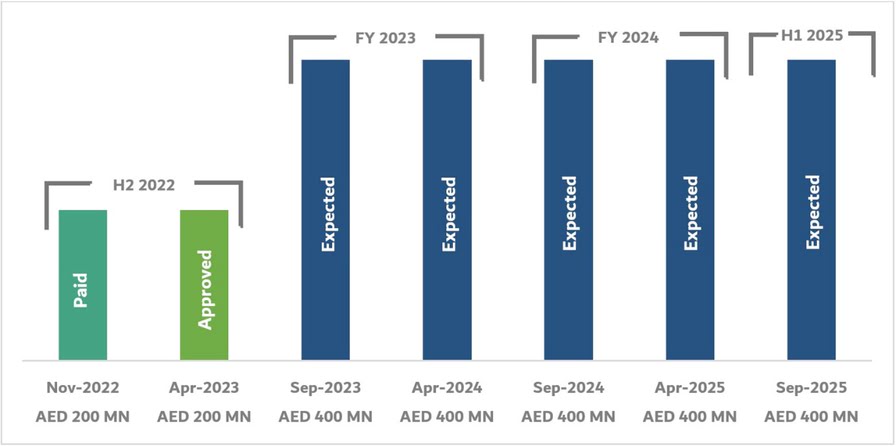 Malek Al Malek, Chairman of TECOM Group, said: "Today's dividend announcement reflects our ongoing confidence in TECOM Group's growth prospects and recognises the Group's strong financial position at the end of 2022. Buoyant consumer confidence and an increase in demand for commercial and industrial real estate in Dubai have positively contributed to our strong cash-flow generation. When combined with favourable government strategies and initiatives which continue to enhance the ease of doing business and attract greater foreign direct investment, we can continue to realise unparalleled achievements and reward our shareholders with attractive and sustainable returns."
Robust financial results for FY 2022
TECOM Group reported strong financial results for the year ended 31 December 2022, with revenues reaching AED 1.97 billion – highest in 22 years – and net profit increasing 28% year-on-year (YoY). The total value of TECOM Group's investment property portfolio increased by 9.7% since March 2022 to AED 21.29 billion by the end of 2022. The Company's recurring free cash flow increased to AED 964 million, up 21% YoY, on the back of healthy accounts receivables and effective cash conversion. TECOM Group has a well-balanced portfolio of assets with both short and long-term contracts, which supports cash flow predictability.
With a varied and tailor-made leasing portfolio, which includes offices, co-working spaces, warehouses, and land, TECOM Group caters to over 9,500 customers and more than 105,000 professionals. The Group also offers additional value-added services to deliver a competitive and attractive environment for businesses and entrepreneurs to thrive in and to facilitate engagement among the districts' community members.